The Hospital Auxiliary of the Los Alamos Medical Center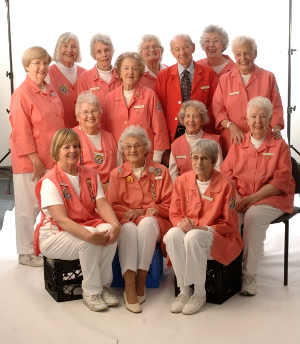 The Hospital Auxiliary is an organization of 47 active members. They serve the staff and patients of the hospital on a volunteer basis. We have both women and men as volunteers. We are sorry, but we no longer have a Junior Volunteer program for teens ages 15 to 17 years old.
Donating more than 10,000 hours each year, the Auxiliary owns and operates the Lobby Shop, serves at many other stations throughout the facility. Among those are the front lobby and 2nd floor information desks, and Ambulatory Treatment Unit (ATU). We provide baby caps for the OB Department and handmade teddy bears for young patients who arrive at ED and on the hospital's 2nd floor.
We have a number of foreign volunteers who work in the Lobby Shop hoping to sharpen their English language skills.
Extensive community service is done during the year. We volunteer at the Annual Health Fair, Heart Council Seminars, serve a light dinner at the Cancer Symposiums and as guides for the LAMC Teddy Bear Clinic for Los Alamos County kindergartners. We also participate in the LAMC Annual Halloween party.
The Auxiliary channels its profits from the Lobby Shop to support scholarships to Los Alamos High School seniors considering a career in the healthcare field. Through the Community Health Aid Committee, we offer scholarships to LAMC staff furthering their education in the medical field and provide educational materials for hospital staff workshops and classes. The Auxiliary also helps the less fortunate in Northern New Mexico with medical and pharmaceutical aid when appropriate. In 2015, $23,605.89 was spent for medical aid, $5,504.04 for pharmacy aid, $9,720.00 for staff scholarships and educational classes and workshops.
We always find ourselves in great need of new volunteers. Many positions are going unfilled and we hope to attract some enthusiastic caring people who would like to give a half day once a week to help serve those who come to the Medical Center.
If you would like to become a member of the Auxiliary, please click here for an application or please pick one up at the Auxiliary office or call us at 505-662-9555. Please return all volunteer applications to the Auxiliary Office and not to the Human Resources Department at the hospital.