Los Alamos Medical Center Named Lifepoint Health National Quality Leader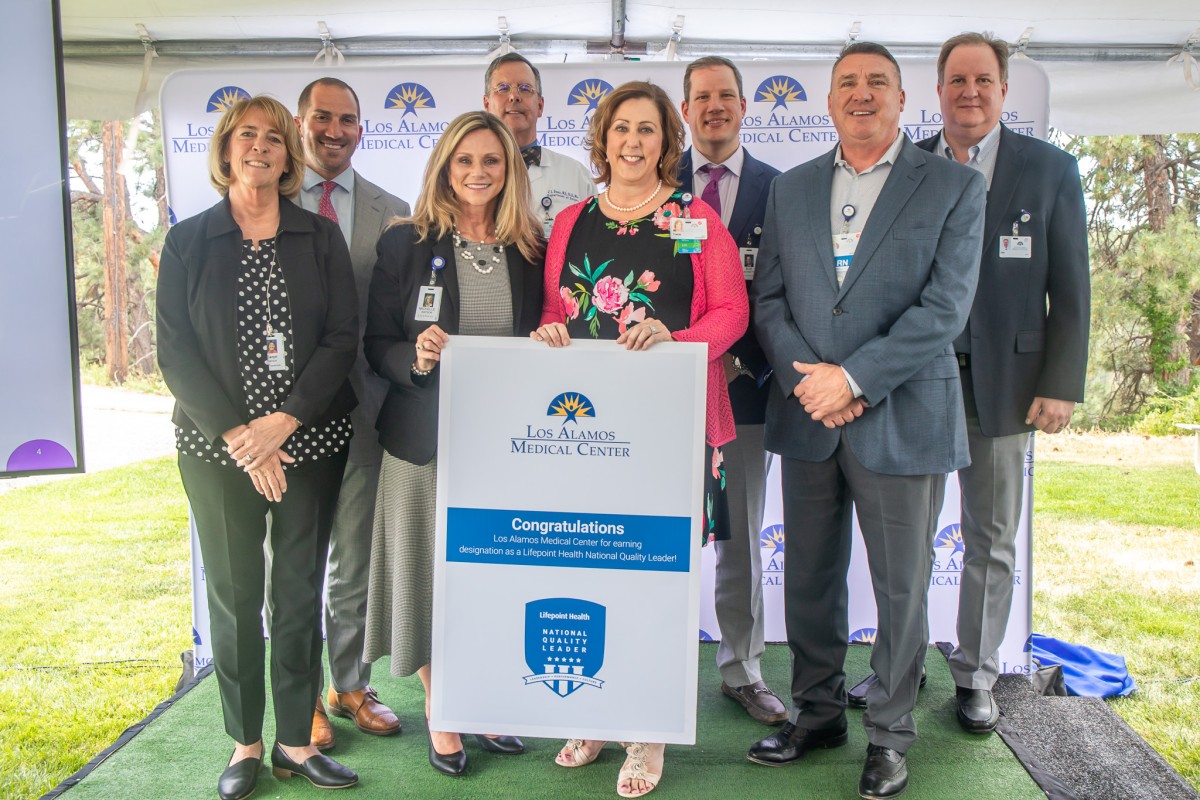 (LOS ALAMOS, NEW MEXICO, July 24, 2023) – Los Alamos Medical Center today announced that it has been named a Lifepoint Health National Quality Leader. This prestigious designation recognizes hospitals within the Lifepoint Health system that have enrolled in the Lifepoint National Quality Program and succeeded in transforming their culture of safety and achieving high standards of quality care, performance improvement and patient engagement.
"This award is the culmination of hundreds of hours of review, planning and implementation of programs to improve patient care, enhance safety and satisfaction, and exceed standards and expectations. I could not be more proud of this team and their efforts. This achievement demonstrates an overwhelming dedication to our friends and neighbors in Los Alamos and surrounding communities and our commitment to making these communities healthier," said Tracie Stratton, Chief Executive Officer of LAMC.
The hospital celebrated this notable accomplishment on Friday, July 21, with its employees, providers, leadership team, community dignitaries and leaders from Lifepoint Health.
"Great quality cannot and will not happen without a great culture," said Bob Barrett, Interim President & Chief Financial Officer of the Western Division of Lifepoint Health. "I get the privilege of going to a lot of communities and facilities across the country. We absolutely felt the culture at Los Alamos. Everybody owns this process. Everybody has a part to play in this."
When hospitals enroll in the National Quality Program, they begin working with Lifepoint quality experts to evaluate and strengthen their quality programs and processes. Following an initial evaluation, the hospital creates a plan and begins to employ changes that will help it achieve quality improvement benchmarks and establish long-term solutions to sustain its results.
In addition to evaluating common quality care and patient safety metrics, the Lifepoint National Quality Program focuses on foundational elements required to sustain quality care, including committed leadership, systems to ensure continuous performance and process improvement, and a culture dedicated to safety. Lifepoint Health National Quality Leader designation denotes those hospitals that have achieved a broad range of criteria in each of these areas and demonstrate a capacity to continuously measure and improve quality and patient safety.
Michelle Watson, Chief Nursing Officer and Senior Vice president of Clinical Operations for Lifepoint Health, gave the credit to a persistent staff and LAMC's leadership team. "This accomplishment comes from dedication. It comes from staying focused on your patients and staying focused on your community."
About Los Alamos Medical Center
Los Alamos Medical Center is the only hospital in Los Alamos County and is a major healthcare provider for Northern New Mexico. Our 47-bed acute care facility has been providing quality and compassionate emergency care, surgical care, inpatient and outpatient services to the communities of Northern New Mexico for over 70 years. Our highly trained Medical Staff and over 300 healthcare employees deliver a level of medical technology and technique that is not commonly found in "small community hospitals."
About Lifepoint Health
Lifepoint Health is a leading healthcare provider that serves patients, clinicians, communities and partner organizations across the healthcare continuum. Driven by a mission of making communities healthier®, the company has a growing diversified healthcare delivery network comprised of more than 50,000 dedicated employees, 62 community hospital campuses, more than 50 rehabilitation and behavioral health hospitals and more than 200 additional sites of care, including managed acute rehabilitation units, outpatient centers and post-acute care facilities. For more information about the company, visit www.LifepointHealth.net.
Read All Posts