Employee Milestone Series: Rosalie Maestas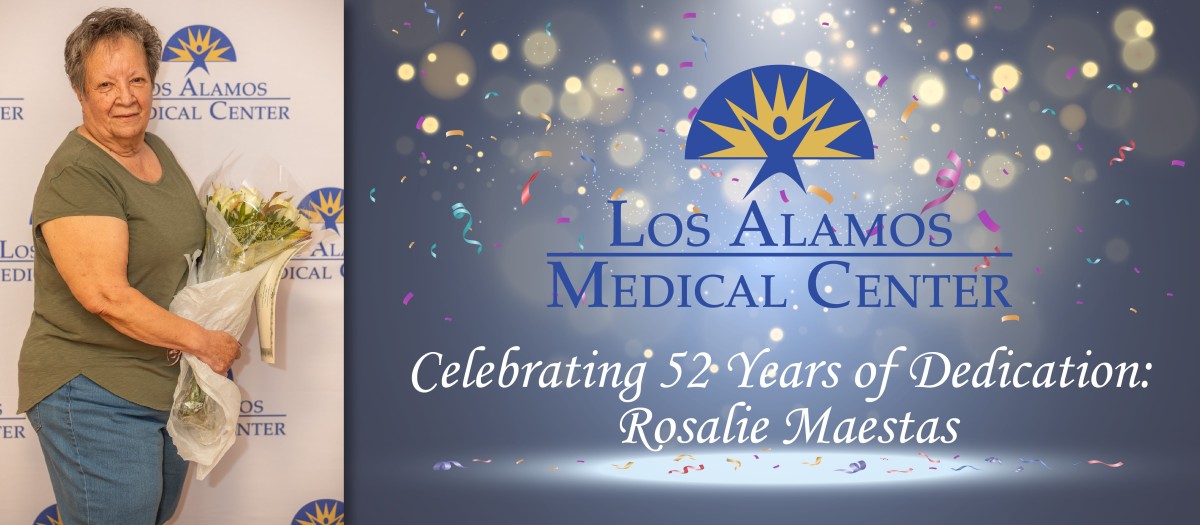 At Los Alamos Medical Center, we are blessed to have so many fantastic team members who are committed to our mission of making communities healthier and who live our core values each and every day.
The following is the first in a Q&A series highlighting several dedicated LAMC employees who have served our communities for decades. First up is Rosalie Maestas, Purchasing Agent in Materials Management, who has worked at our hospital for more than 52 years.
Question: Can you tell us a little bit about your first role when you first started at Los Alamos Medical Center? What positions have you held since then?
Answer: I was a nurse aide working nights on Medical/Surgical. Nine years later I moved into a sterilization tech/central supply position. Then, I moved to purchasing.
Q: What is your favorite part of working at LAMC?
A: Coming in to work and seeing all my fellow workers. I also really enjoy working with the UPS and FedEx delivery people; we have become friends.
Q: Over all these years serving our community and working with so many people, what stands out to you the most?
A: I don't feel much has changed. The biggest challenge I have experienced was getting supplies during the COVID pandemic time period. That is still going on.
Q: Our hospital was recently named a Lifepoint Health National Quality Leader. How do you play a role in delivering safe and quality care to our community?
A: I play a role by ensuring everyone gets the supplies they need quickly to provide quality care for our patients, and finding a way to replace an item you can't get. And, by simply showing up to work each day!
Q: What do you like to do outside of work? Are you involved in any community organizations?
A: Spending time playing with my grandchildren, shopping and going on family trips. In the past I gave communion to the homebound for Sacred Heart Church in Española.
Q: What would you tell someone who is potentially interested in working at LAMC?
A: That it's a great place to work, with friendly people. If you get your work done and you are happy with what you do, the day goes quickly and then the weekend comes fast, and then it's Monday again!
Are you interested in working with great people like Rosalie? Find LAMC career opportunities by visiting www.losalamosmedicalcenter.com/careers
Read All Posts